(Published Aug. 7, 2017)
Applied Optoelectronics (AAOI) hit a pothole with guidance last week.
Although the fundamental impact appears to be short term in nature and involves the company's older-generation products, the technical picture is a different story here.
What we hope will develop here is a wide trading channel with the $60 area as support and $100 as resistance.
Unfortunately, with price now trading below the 13-week simple moving average and the large drop last week on big volume, support is the only number that matters.
AAOI bulls marched the stock higher on greater-than-average volume for three solid weeks before last week's selloff. Despite the big volume from last week, we now have a market with many recent buyers sitting on losses.
These traders may be far too willing to sell when those losers approach zero. This will likely result in a resistance level in the $80 to $85 area rather than $100.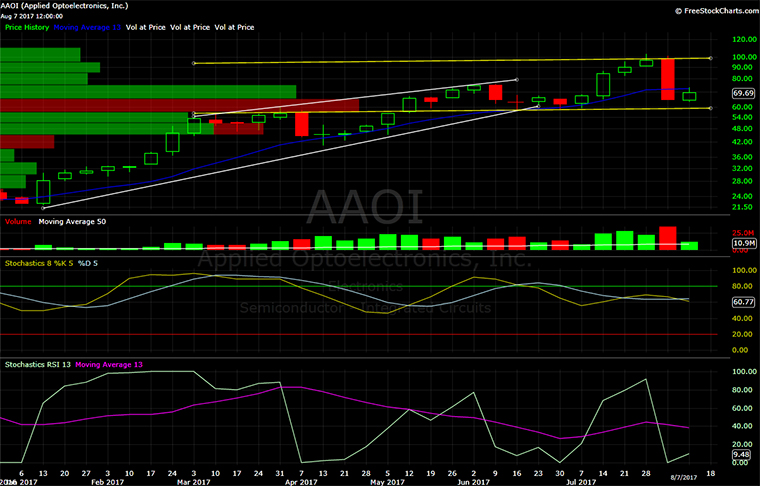 For traders who missed an initial entry, the picture now is a bit more muddled, but $60 is the main focal point.
As long as shares remain above $60, the fundamental picture is compelling enough to overlook a neutral technical picture. If we break under $60, then the technical picture will become extremely bearish and overwhelm the fundamental picture in the short term.
We would use $60 as our stop or hedging point on shares. We've scaled back our 18-month target to $115 based on slowing sales in the 40G market, but still expect 100G+ to carry AAOI's future growth.
---
Are you a thoughtful investor looking for uncommon investment ideas?
Stirling Strategic Investor is a new source of high-quality investment ideas from seasoned investment professionals Tim Collins and Kim Khan, formerly senior members of TheStreet.com. Tim and Kim share 50 insightful equity trade's per year for $100. That's just $2 per trade.
And if you subscribe now, you can get $20 off the the annual price using promo code 20DISCH
Tim and Kim's first recommendation, Mobileye, was recently acquired at a 34% premium by Intel. We provide the first two ideas at Stirling Strategic Investor for free. We look forward to providing you uncommon ideas of true value.
Learn more at Stirling.