The Uncommon Idea in Brief
Buy Wix.com (WIX) stock for the long term. (Published Aug. 6, 2017)
– Build a long position below $55. Add moderately on a pullback into the $52 to $55 area and aggressively in the $42 to $45 range.
The Industry Opportunity
There's a crazy new thing called the internet. Maybe you've heard of it. To not only survive, but to thrive, today in business requires an online presence.
Small Businesses Remain Offline
Value: As the price to construct a website has dropped, the value of a website has risen, especially for retailers. More customers are searching for products and reviews before making purchases, not just online and in-store. The return on investment is currently ten-fold the average startup cost and expanding annually.
Ease of Access: The ability to construct a do-it-yourself website has never been simpler. Small business owners can build a basic website for little or no cost. Not too long ago, just getting started cost thousands of dollars and building an interactive site cost tens of thousands of dollars.
Scalability: There's no right or wrong way to build a site. Businesses have the ability to start small and expand as their needs expand. According to CNBC, 45% of small businesses say they don't have a website and of those who do, only 36% use it to communicate news to customers and potential customers. With an estimated market size of 28 million small business, according to the Small Business Administration, roughly 12.5 million small businesses potentially need websites, so the opportunity for website providers to scale their own number of clients exists as well.
What WIX Does
Wix.com is a do-it-yourself website builder with a focus on the micro-business and e-commerce market.
Wix.com is the market leader in the do-it-yourself (DIY) website building market, boasting more than 100 million registered users and more than 2.5 million premium subscribers. Wix users have created more than 28 million websites around the world.
For a low monthly cost, the company also provides micro-businesses with tools to run their business and e-commerce platforms, including marketing, scheduling and relationship management.
The company offers a wide variety of applications through its online platform, so a business can tailor a site to its specific needs.
These user applications include:
Wix Editor — a drag-and-drop website developmental tool
WixShoutOut — creates email campaigns and newsletters
WixStores — creates and manages an online store to sell products and process payments
Wix Bookings — online booking
WixHotels — website for hotel, B&B and vacation rentals
WixMusic — music player solutions
Wix Restaurants — solutions for restaurants to provide menus, orders and reservations online
Wix Photography — create and maintain online portfolios
Wix Video — showcase, promote and sell videos online
The Uncommon Market Position That Sets WIX Apart
Beyond its recognizable brand name and marketing, technology propels WIX ahead of competitors like SquareSpace and Weebly. WIX sells in 190 countries, while the other two are more localized.
The company recently introduced the WIX Code, which enables users to create powerful web applications. Code is intended to create an environment for the easy creation of web applications with business logic and top-quality user interface. It provides ways for creators, developers and designers to build tailored web applications for their specific needs. Non-professionals can use Wix's drag-and-drop to create similar interfaces, despite lacking expertise.
Wix worked in cooperation with Google (GOOGL) to develop its SEO Wiz, the most installed application of the first half of 2017 on the Wix platform. This interactive step-by-step application helped over 65% of its users have their site appear on the first results page of a Google search using their top keywords. Users can now avoid paying heavy consultation fees for SEO.
Finally, WIX's Worldwide Ambassador Program has already been used by 90 ambassadors in 22 countries to host more than 100 events, including workshops and tutorials, teaching local technology and small business organizations how to optimize their use of Wix.
Financials – Growth Continues to Come Online
WIX revenue comes from micro-business subscribers as well targeted vertical and horizontal users such as hotels, restaurants, e-commerce and photographers. Gross revenue of $103.5 million this part quarter exceeded management's previous guidance of $101 million to 102 million. Gross margins inched lower to 84% from 85% as the company broke even on a non-GAAP basis this quarter. Despite revenue growth of 51% year-over-year the flat earnings per share fell short of the consensus estimates of $0.09 per share. This was the driving factor for the sharp selloff in shares after the report.
Overall, the company added 192,000 net premium subscribers, its second-highest number ever. The total now stands at 2.9 million, an increase of 35% year over year. Furthermore, the company added 5.5 million registered users in the second quarter bringing the total to 109 million, a 24% increase year over year. E-commerce subscriptions surpassed 388,000 during the quarter and continue to exceed expectations.
Free cash flow remained strong at $17.4 million, up from $10.2 million a year earlier and should continue to grow throughout 2017, allowing WIX to expand its application offerings to spur its top line and, eventually, its bottom line as well.
Management's guided revenue higher for the remainder of the fiscal year. Expectations are for revenue growth of 45% to 46% reaching $421 million to $423 million. Free cash flow is anticipated to soar 85% to 88% and finish the year in the $67 million to 68 million range. For the current third quarter, WIX anticipates growth of 44% to 45% on revenues of $109 million to $110 million.
The Technical Analysis – Stability Needed Before the Stock Is a Buy Based on the Price Action
Wix.com enjoyed a strong start to 2017. Even after the recent pullback, shares remain up more than 35% year to date and sit more than 67% higher than a year ago. Unlike other recently-profiled names, the technical picture is not a good one at the moment. In fact, it's downright ugly both short and longer term. Entry patience is an absolute must.
WIX's recent post-earnings selloff is the main culprit for concern. On the weekly chart, we see a bit of a push higher in volume, while shares have dropped substantially. As investors, we'd prefer to see volume drying up during a selloff rather than spiking and then remaining higher. This high volume has the potential to create staunch resistance on the way back up. After all, for every seller there is a buyer, which translates to a lot of recent buyers now sitting on a loss. They are prime candidates for the breakeven trades.
That's a scenario that happens when an investor or trader buys a stock, watches it immediately get lower, then sells if their position gets back to breakeven so that they can "get their money back." In short, they feel lucky to break even after being in the red. It's important to note, WIX's quarterly earnings announcement spurred the spike in volume two weeks ago, but the higher-than-average volume last week causes concern.
Since the May highs, shares have been trapped in what first appeared a bullish consolidation flag, but has now morphed into a bearish channel. We have a second, softer bearish pattern in the form of a descending triangle in play here as well. It's softer due to the large amount of space between the $61 support level and the lows of May and June. When price action does not test a support level for a long period of time, the support level weakens as the number of traders originating from those levels fades.
This $61 level is our focus. Until WIX closes above those levels, we are not technical buyers. Instead, we'd focus on the pre-breakout level from February 2017 in the low $50s and begin building a long-term position in the $52.50 to $55 range and become aggressive buyers on a successful retest of $45. Barring another earnings disappointment, we don't anticipate shares testing this level in 2017.
Our initial target on a weekly close over $61, independent of fundamental views, would be a return to $67.50 in short fashion with an ultimate upside of $75.00 to $80.00 within 12 months. Wix.com presents a challenging technical picture with broken support and lost momentum. Patience and a tolerance for volatility and a potential drawdown will be required of this position. Scaling entries, meaning buying over time at different prices, will likely offer the best risk-reward as well as emotional management.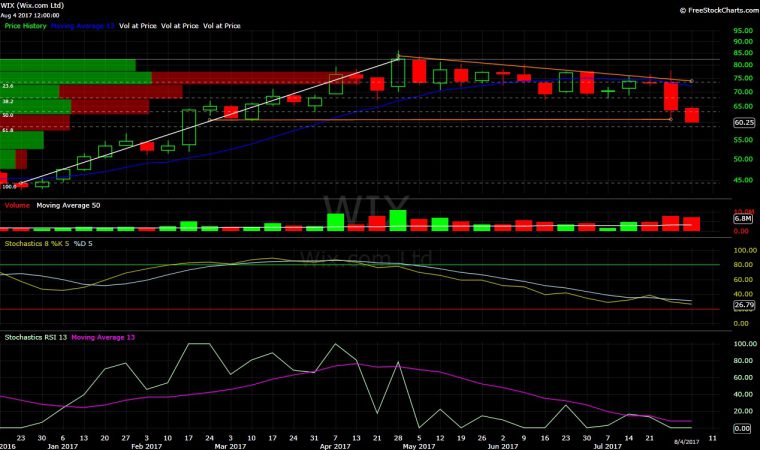 Catalysts for the Thoughtful Investor – Why Wix is a Buy
The purchase of a domain name, a site with basic business information and search engine optimization (SEO) can be done for hundreds of dollars. If a company wants a simple footprint on the web, often it can be completed for no cost. Despite the low cost, many businesses still lack an online presence. Small business owners often get trapped by analysis paralysis. They are so overwhelmed by all the potential choices when building a site, they do nothing at all.
Recently, WIX introduced AI website creation-n via its WIX ADI (Artificial Design Intelligence) application. A new user answers a few questions about their business and WIX automatically designs the first draft of a website, overcoming the getting-started hurdle. Over time, the more websites WIX automatically designs, and the more it watches how its users modify the initial drafts, the more successful WIX's ADI website generation will become. More appealing first drafts should equate to a higher retention of users and potential up-sale of horizontal and vertical features.
The Bottom Line
1. WIX is a name brand leader in the low-cost do-it-yourself website building market.
2. WIX's strong user base with a subscription revenue model as well as a no/low-cost model for even the smallest business provide revenue consistency and predictability plus upside top- and bottom-line growth for WIX.
3. WIX ADI introduces artificial intelligence as part of its initial website building platform to assist new users in overcoming the overwhelming amount of choices available when beginning construction of a new site.
4. In the range of $52.50 to $55 we like WIX as a long-term buy and hold. Over $61, we like WIX as a re-established bullish position on a successful test of support. The small-cap nature, short interest and new issue nature will make it volatile.
5. WIX can quickly make available all new platform features to all its users and e-commerce clients.
At the time of publication, neither the author nor the company held positions in the stocks mentioned, but positions may change at any time.
---
Are you a thoughtful investor looking for uncommon investment ideas?
Stirling Strategic Investor is a new source of high-quality investment ideas from seasoned investment professionals Tim Collins and Kim Khan, formerly senior members of TheStreet.com. Tim and Kim share 50 insightful equity trade's per year for $100. That's just $2 per trade.
And if you subscribe now, you can get $20 off the the annual price using promo code 20DISCH
Tim and Kim's first recommendation, Mobileye, was recently acquired at a 34% premium by Intel. We provide the first two ideas at Stirling Strategic Investor for free. We look forward to providing you uncommon ideas of true value.
Learn more at Stirling.