The Uncommon Idea in Brief
Buy Kopin (KOPN) for the long term. (Published July 5, 2017)
-We'd begin building a position below $5 and add aggressively on any post-earnings pullback in price driven by the near-term lack of profit and uneven revenue stream.
The Industry Opportunity
Since the days of Pong, gaming evolution has been in high demand. It's as much about the experience as it is the game itself. Gamers want to be part of the game, not simply players of the game.
Today, the Atari paddles are being swapped for virtual reality (VR) and augmented reality (AR).
Total immersion for the ultimate home gaming experience is closer than you might think. The main problems are latency issues and insufficient resolution.
The Main Players
While the industry may be in its infancy, there is no dearth of companies working in the space. Samsung, Sony (SNE), Microsoft (MSFT), Huawei, Xiaomi, Taobao, LeTV, Baofeng, Lenovo, and ZTE are just some of the big names involved.
Oculus may be the best-known name, although some may be more familiar with its parent Facebook (FB). There's a small company by the name of Alphabet (GOOGL) also involved in the space.
The Leader
No company outside of Google is a dominant market player. Google controlled 88% of VR units shipped last year.
But the product was basically free and set the bar so low that very little advancement is needed to exceed it.
In China alone, the VR market is expected to hit $8.5 billion next year, with Oculus, Sony, Google, Lenovo, HTC, and Samsung chasing Huawei, Xiaomi, Taobao, LeTV, Baofeng, and ZTE.
Movies
Virtual reality and augmented reality have already proven to be the direction of gaming, but expect cinema content to make a push as well. The market is estimated to grow to about $90 billion by 2020.
What Kopin Does
Kopin develops optical and audio components for manufacturers of AR and VR equipment.
On a smaller scale, Kopin also produces Family of Weapon Sights (FWS) programs – enhanced sighting technology — for F35 fighter jets.
Current product development focuses around Kopin's Whisper Chip and OLED microdisplay.
The Whisper Chip
The Whisper Chip creates automatic speech recognition even in noisy environments. It allows consumers to use voice rather than touch when operating an augmented or virtual reality system.
Kopin is working with GoerTek – a Chines acoustics company – to jointly develop and commercialize one virtual reality headset along with two augmented reality headsets, one enterprise and the other health and fitness. The company will contribute technology and components for voice and lighting. Lenovo has also teamed with Kopin to create augmented reality smart headsets.
OLED
The OLED microdisplay brings 4 million pixels to a one-inch display, allowing for a compact, low-power solution with little latency.
The OLED microdisplay — featuring high resolution, low power and small-form factor display — is protected by 10 patents. The OLED-on-silicon microdisplays consist of two key elements: silicon backplane and OLED emissive layer.
The manufacturing operations for the company on the OLED microdisplay have been outsourced to dedicated foundries, while the design expertise of components resides within Kopin.
This creates the first fully-fabless (outsourced fabrication) OLED microdisplay business model.
These two products hold the potential to turn VR into the must-have for any true gamer for the next decade.
Kopin currently holds partnerships with Lenovo and Goertek, the latter of whom supplies to Samsung, Sony, Microsoft, Huawei, and Xiaomi. The company isn't seeking to directly compete with all these names, but rather supply components through fabless (outsourced) production.
The Uncommon Market Position
As mentioned above, the first fully fabless OLED microdisplay business model is a big advantage in the market.
Kopin boasts top-name partners in both the audio and optics space of virtual and augmented reality. The fabless business model allows it to step back into a supplier mode for multiple companies in the space rather than competing with them.
What Sets Kopin Apart
Kopin may not be first to market, but it may be best to market soon.
While the Whisper Chip gets buzz, Kopin's real strength lies in its visual component.
Insufficient resolution will create blurry pictures. In order to generate user immersion, 4 million pixels are required. Kopin recently debuted its OLED microdisplay that offers a 2048 x 2048 resolution on a one-inch diagonal size micro-display. That's 4 million pixels across one single inch. The screen operates up to 120 Hz with low power consumption.
While the list of competitors exists and VR products have already hit the market, the patented Pantile optics (magnifying lenses) will allow smaller and thinner VR systems estimated to be less than half the size of the commercial VR headsets like the Oculus Rift, HTC Vive and the one from Sony's Playstation. Kopin's microdisplay is able to achieve all this with almost zero latency (10 milliseconds) for the total immersion experience.
The end result is total immersion with low power consumption, near-zero latency and a more compact product offering.
Financials – Kopin by the Numbers
Kopin's financials don't wow like their products; at least not yet.
The company lost $5.2 million on $6.4 million in revenue in 4Q 2016. This equates to $0.08 per share.
For the year, Kopin lost $23.4 million on $22.6 million revenue, or $0.36 per share. In 2015 it lost $14.7 million on $32.1 million of revenue as the company changed its product focus on augmented reality and virtual reality.
While the losses jump out on paper, the viability of the company isn't a concern.
Kopin's got no debt and holds $77.2 million in cash, around $1.12 per share. The cash position is only down $3.5 million since 2015, so the company has been able to manage cash flow as well as attract equity investment.
The company showcases more than 300 patents and patents pending, 37 granted in 2016 with 30 more currently filed for review and approval. Additionally, Kopin has aggressively expanded relationships with several large companies like GeorTek and Lenovo to create commercial products in the space.
The company still draws revenue from its F35 fighter jet and FWS military programs as well. Management believes the new administration's desire to increase military funding could benefit that division.
What Makes the Stock a Buy
Think of the company using picks and shovels rather than mining for gold. Kopin's focus on design rather than solo production or a finished product provide it flexibility in the fiercely competitive AR and VR market.
There are no earnings and revenue is adjusting to a change of business model. So, stock buyers have to be comfortable with the industry as a whole and Kopin's offerings.
A red flag is a short interest of 46% of the float, but that could also lead a short squeeze on a product success or rumor of takeover interest.
The Technical Analysis — At $5 or lower KOPN is a BUY
A strong winter hasn't translated to further gains during the spring and summer of 2017 for Kopin.
The stock has been trading in a very wide channel for most of the year as price has fluctuated between $3.30 and $4.40. Over the past six months, top-side resistance has remained constant, but we have witnessed a slight, but rising, support level. Support now sits pennies below current price. Buying the stock in the $3.55 to $3.70 area translates to the thesis. We'll know very quickly if we are wrong.
If Kopin were to close under $3.50, then we'd step aside and look to repurchase shares closer to $3.20.
Technically, shares appear to be oversold based on the Stochastics RSI, so momentum currently favors the bulls. The very low reading near 8 has proceeded several short-term bounces as well as the strong bounce in November 2016. Furthermore, Stochastics did not reach oversold territory and Kopin is poised to experience a bullish crossover as June ends. This, too, has been bullish for shares.
It's tough to imagine shares pushing through $4.40 if they test that level again in the next six to 12 months, so that should be a target for taking some profits if the area is hit. A weekly close above $4.40 would be bullish and should push shares toward $5 as shorts get squeezed and momentum traders push prices up.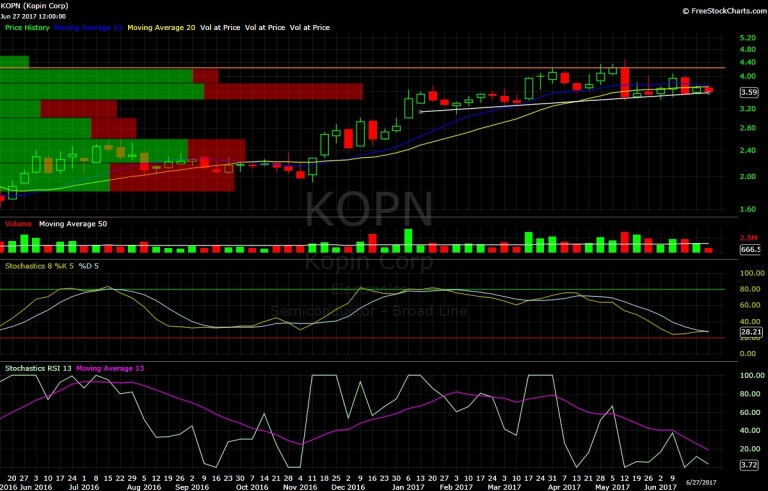 Catalysts for the Thoughtful Investor
With no debt, a strong cash position, a leading audio chip, perhaps the best microdisplay on the market and a market cap just under $300 million, a takeover of the company in the $450 million to $500 million range in the next 24 to 36 months wouldn't be surprising as sales surge and the bottom line turns to black from red.
As part of the deal, GoerTek also acquired a 10% position in Kopin at $3.25 per share.
The Bottom Line
-Kopin is an early leader in audio and optical design for AR and VR.
-The AR and VR ecosystems are growing rapidly in gaming and cinema. Barrier to entry is low for the end market, but in terms of design and internal components, barrier to entry is high and end clients should become sticky for Kopin. Headsets utilizing Kopin technology have the ability to be much smaller than the current headsets using other technology, changing internal components away from Kopin's will be costly and difficult for customers.
-Kopin's partners are leaders in the industry, but with no end product yet to market penetration is negligible. Kopin boasts one of the smallest and visually fluid microdisplays on the market for true gamer immersion plus offers an audio chip to permits gamer to utilize voice commands.
-In the range of $4-$5, KOPN is a long-term buy and hold, although the small-cap nature, short interest and challenging financials will make it volatile.
At the time of publication, neither the author nor the company held positions in the stocks mentioned, but positions may change at any time.