The Uncommon Idea in Brief
Buy Veeva Systems (VEEV) stock for the long term. (Published July 5, 2017)
Build a long position between $48 and $52. Add aggressively on a breakout over $52.
The Industry Opportunity
Meet the compliant cloud.
Companies that are highly regulated require cloud platforms customized to meet compliance needs.
The Compliant Cloud Sector Profile
Value: There are significant upfront costs in providing cloud services compliant with state and national regulations for industries such as life sciences, finance and healthcare.
First Mover Advantage: Companies will work with compliant cloud providers with scale, experience and, most importantly, reputation. There is a network effect in being first to market
Economic Moat: Clients are sticky and price insensitive. There is significant amount of work in migrating from one compliant cloud provider to another
Where is Veeva in all of this?
The ever-evolving regulatory environments presents continued and very real challenges for companies attempting to bring a drug from idea stage to market.
Veeva provides compliant cloud software for life sciences companies, helping them avoid the pitfalls of the regulatory environment.
What Veeva Does
Veeva Systems provides a cloud management platform that allows life sciences companies to manage content, including documents and files, along with data.
Veeva helps companies bring a drug from idea stage to market while collecting all the necessary data and complying to all of the necessary regulations. This can be accomplished from a single platform.
The company is also benefiting from life sciences companies retrofitting their cloud platforms to be or remain compliant. The constantly-changing regulatory landscape generates demand and a new pipeline of clients.
While the company is predominantly focused on life sciences, it recently signed two Fortune 500 companies outside life sciences and is expanding into the chemical, consumer packaged goods and cosmetics industries. Those are sectors with industry-specific regulatory barriers to entry.
The Uncommon Market Position
The compliant cloud is a developing marketplace.
One misstep in compliance for a company bringing a drug to market can cost not only millions of dollars, but years in delays.
What Sets Veeva Apart
Veeva's integration with Salesforce.com (Veeva now has more than 250 joint customers with Salesforce) cements Veeva as a leading provider in the compliant cloud sector and positions its proprietary Veeva Vault as a key piece of its compliant cloud product. Veev's Salesforce partnership outweighs that of the competition: Medidata Solutions (MDSO), Cerner (CERN) and athenahealth (ATHN).
By maintaining a platform that stays at the front of regulatory landscape VEEV has built a moat around its core business. The switching risk for Veev clients is significant. The integration of a new system requires resources and involves the risk of lost business or non-compliance during the integration process.
Life Sciences: Veeva has a 45% share of the customer relationship management (CRM) market in Life Sciences, according to UBS.
The company added 115 new customers in fiscal 2017, up from 84 in 2016, while achieving a revenue growth rate of 30%+ and net income increases of 23%. The company is heavily focused on the United States but does have an international presence.
Healthcare: Veeva System's was ranked No. 2 in the healthcare industry on the Forbes JUST 100 list and the Veeva CRM Engage family was recently named a top tech innovation by PM 360. Veeva is using this momentum to expand its product offering with Veeva Vault.
Other Sectors: Currently, Vault focuses on helping companies bring a drug to market, but Veeva is aggressively expanding the platform to other sectors that also require compliance documents and compliant procedures. Cosmetics, consumer packaged goods and chemicals offer a large addressable market for Veeva.
In addition to growing its customer base 132%, Veeva signed two of the largest Vault deals ever in the most recent quarter. The growth in customers and the recent integration of Veeva CRM with Salesforce.com (CRM) Marketing Cloud solidifies VEEV's market leadership position.
Financials — Veeva by the Numbers
Thanks to Veeva Vault and its subscription-based model, the company's future appears secure. It expects a temporary pause in the strong income growth to which investors have been accustomed, but the reason is sound. Veeva is aggressively expanding Vault to create both revenue stability along with growth.
The company produced 31.4% year-over-year growth in the most recent quarter, delivering revenue of $150.15 million. This translated to earnings of 16 cents per share, or $21.7 million, a 23.5% increase from the prior year. Veeva guided revenue higher for the new fiscal year.
The company has watched gross margin trend higher over the past five years increasing from the mid-60s to 69% recently.
While commercial cloud subscription revenues are expected to increase 15%, Veeva management predicts Vault subscription revenue will grow 50%. The Vault platform allows the company to significantly expand its addressable market with quality management outside of the life sciences sector.
Why the Stock Is a Buy
While the 53.1x forward price-to-earnings ratio is not cheap, Veeva has no debt, $518 million in cash and has posted year-over-year sales growth of 30%+ every quarter for four years.
The Vault platform allows the company to significantly expand its addressable market outside of the life sciences sector.
Cloud-based software and SaaS (software as a service) is still an infant industry undergoing huge growth along with its share of growing pains.
Expectations will be as high for annual growth rates. To borrow from Spiderman, with great expectation comes great volatility. We expect there to be large price volatility, especially around the time when it reports earnings. Make no mistake, this will be a bumpy ride.
The Technical Analysis — At $67.50 or lower VEEV is a BUY
Veeva Systems has been on a tear since mid-March. While that might give some investors pause, it is exactly a pause in the price action we've been watching and wanting.
Shares have traded in a wide range over the past five weeks after a sharp move higher in May. This $59 to $65 range has created a consolidation channel. After the strong push higher, it is better recognized as a bullish flag, a common and strong continuation pattern.
There are two approaches to utilizing the bull flag as a trading tool. The first is to focus upon support and use that area as a price target to acquire stock. Veeva offers up a two-for-one here as the support/lower level of the channel coincides with the 13-week simple moving average (SMA).
We have to trek back into winter 2016 to find a time where Veeva shares spent more than one week under the 13-week SMA.
In short, support is very strong within this bull flag.
Of course, if support is breached, then an investor should consider protective action such as put protection or potentially stopping out of the trade until the situation appears technically bullish again. We would expect the 20-week SMA to act as support which translates to downside expectations around $55.
The second approach to consider is buying the breakout. Investors could choose to wait for a weekly close above resistance, the top of the channel. Once above the resistance level of $67, shares should push higher. Our initial target on a breakout, independent of fundamental views, would be $73.25 in short fashion with an ultimate upside of $85 within 12 months.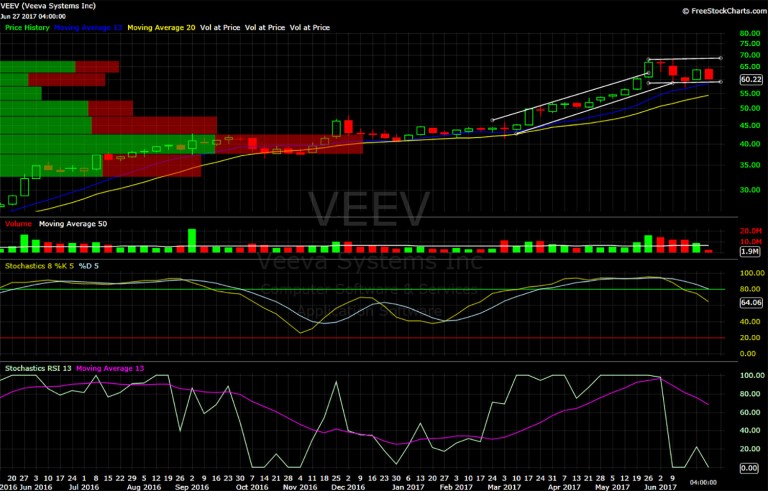 Catalysts for the Thoughtful Investor
With new healthcare legislation in offing, the complexity of regulatory compliance will be even more important and larger companies may be looking at Veeva as potential acquisiton target.
Salesforce.com (CRM) could use its large customer base to sell Veeva's products. Oracle (ORCL) has a large potential client base as well.
But perhaps the most interesting potential suitor is Cerner  (CERN), which recently was selected by the goverment for a $65 million contract to overhaul Veterans Affairs health records.
The Bottom Line
Veeva Systems is the CRM platform leader in the life sciences sector.

The life sciences market is growing rapidly, but stringent compliance requirements and regulations are a burden to companies. Veeva's compliant-ready platform removes those concerns, so life science companies can focus on doing what they do best. The risks associated with compliance and change create high barriers to entry for companies competing with Veeva and sticky customers. VEEV has limited competition and has successfully incorporated industry-leading technology partners and products.

Veeva has strong life science sector penetration, but with underserved, addressable markets like cosmetics, chemicals and consumer packaged goods, the potential market is huge and not factored into current financial guidance.In the range of $45-$55 we like VEEV as a long-term buy and hold. The small-cap nature, short interest, evolving business model and aggressive valuation will make it volatile.

Veeva is trading currently in a range from $59 to $65, but there is strong support for buying at that range.

The compliant cloud is a developing marketplace with potential for growth across the healthcare industry.
At the time of publication, neither the author nor the company held positions in the stocks mentioned, but positions may change at any time.