The Uncommon Idea in Brief
Buy Alarm.com (ALRM) stock for the long term. (Published July 5, 2017)
-We'd begin building a position around $33 and adding aggressively on any post-earnings pullback in price driven by the anticipated cyclical weakness.
The Industry Opportunity
Smart homes are a major step for many consumers in the 21st century. They provide security, convenience and the confluence of the home's operating systems.
The ability to create cloud-based interactive systems to control home security and energy management offers both peace of mind and convenience. Alarm.com is our second smart home position offering consumers the ability to integrate the latest security features and energy management choices for homes.
Alarm.com isn't without competition both in professional installation as well as managed services.
Previously recommended name Control4 (CTRL) competes with similar names in the sector. The difference is that while Alarm.com avoids the private sector names like Lutron, Savant, Creston, SmartThings and URC, it still has to battle Nest Labs. Nest is best known for its parent Alphabet (GOOG), but has a concentration on comfort and security, so it's competitive reach is limited. Furthermore, most folks will know the names of its other competitors: AT&T (T), Comcast (CMCSA) and ADT (ADT).
Alarm.com's smaller size and focus provides agility, along with a hands-on touch to not only compete with the larger competitors, but also make it an appealing takeover target.
What Alarm.com Does
Value in security comes from fear of the unknown or an experience that is unforgettable. Because neither is enjoyable, creating an integrated system that makes the process of protection as simple as possible creates value.
Alarm.com provides cloud-based software platform solutions for smart homes and businesses in the United States and internationally. The company offers interactive security solutions to control and monitor their security systems as well as connected security devices including door locks, garage doors, video cameras and HD video monitoring systems.
Alarm.com also offers energy management systems like smart thermostats, energy usage and energy monitoring.
Partnerships continue to grow for Alarm.com and are currently highlighted by Chamberlain and Linear for garage doors, SkyBell Technologies for video doorbells, Legrand for home audio, Rachio and Rain Bird for irrigation control and Kwikset, Schlage and Yale for smart entry.
Alarm.com has a growing market share in the peer monitoring segment of home automation even with small penetration of the overall potential market.
The Uncommon Market Position
Early in 2017, Alarm.com expanded its deployment of its 4G LTE cellular gateway models as well as making several small acquisitions. 4G will enable ALRM to offer the broadest line up of security panels with best-in-class network life.
The most recent acquisition of Connect and Piper from Icontrol Networks should accelerate ALRM's business services market share. Connect and Piper designs, produces, and sells all-in-one video and home automation hubs for service provides. This acquisition will link ALRM with ADT Pulse, once a competitor, now seen as a partner and potential future acquirer.
The company also announced integration of video doorbells from Skybell Technologies, home audio with Legrand, and irrigation controls with Rachio and Rain Bird. Legrand integration offers the ability to connect home system audio with smart speakers. The integration of water management solutions from Rachio and Rain Bird along with water control valves from Fortezz and Water Cop positions the company to benefit from increasing water conservation regulations and consumer goals of reducing water bills/water waste.
In order to reduce customer attrition, Alarm.com's Business Intelligence and MobileTech platforms continually analyze real-time and historical data points to identify and address trouble conditions that can lead to account cancellation. The Business Intelligence platform allows service providers to prompt customers to re-engage with their system and potential upsell. Furthermore, MobileTech can verify if a system is properly configured and help analyze potential issues while a technician is present. Penetration is not only about finding new customers and new markets, but also maintaining current clients.
What Sets Alarm.com Apart
While the list of competitors may be lengthy, Alarm.com has created an open ecosystem allowing service providers to capture growing demand, create higher recurring monthly revenue (RMR) accounts and build longer customer lifespans.
The ability to continually evolve in order to access the latest devices and technology allows customers to connect and manage their homes through something as simple as their phone.
Alarm.com's recent acquisition of Connect and Piper from Icontrol Networks expanded its interactive security and home automation platform to several providers, including competitor ADT.
The end result: scalability, flexibility of offerings, and higher customer satisfaction
Financials – Alarm.com by the Numbers
Alarm.com flashed solid fourth-quarter numbers for 2016. Net income of $3 million on revenue of $69.8 million showed increases of 36% and 23%, respectively, both well above estimates. The company increased its cash position by 9.5% to $140.6 million, or $3.06 per share.
With virtually no debt, Alarm.com is well-positioned for small acquisitions or aggressive internal expansion to fuel growth in 2017.
Overall, 2016 was a strong year as the company earned $10.1 million on $261.1 million, which equated to $0.21 per share of GAAP EPS. Non-GAAP numbers were an impressive $0.65 per share on $31.1 million.
The real draw for investors is the software-as-a-service and license revenue. Clarity and consistency of revenue is paramount for small-cap companies, especially those with big name competitors, and Alarm.com delivered a 21% increase in 2016 in this department with $46.9 million in revenue for Q4 and $173.5 million for the full year.
Looking forward to 2017, management expects continued strong growth. Full-year revenue is projected to increase 24% and finish the year in the $322 million to 325 million range. Non-GAAP earnings per share are expected to increase by 14% to $0.73 to $0.75 per share.
---
Want more stock picks like this? Get two picks for free at www.stirling.com. Learn more from Tim Collins' analysis every week.
---
Why the Stock Is a Buy
Alarm.com fits the mold of the stereotypical small-cap high flyer.
A forward P/E in the mid-30s might cause pause for some traders, but with sales growth in the mid-20s to mid-30s, a revenue base transitioning to subscription revenue, an open platform to attract new product and the potential to push into the federal government as a supplier, ALRM has much to offer.
The company carries virtually no debt and has been growing cash allowing for additional small purchases or an aggressive expansion in research and development. On the surface, the numbers may be stereotypical, but there is nothing typical about the upward trajectory of ALRM.
The Technical Analysis — At $35 or lower ALRM is a BUY
Alarm.com's shares have maintained a slow and steady pace higher. It's offered the opportunity to buy at support or buy breakouts. Timing here is only challenging for investors without patience.
While Alarm.com has marched higher, it has done so in a stair-step fashion, pushing higher in a single week or two then trying sideways in a fairly wide range for months at a time. Unlike many other names in the market, this one is technically strong. Volume over the past month has been well above average while the stock is rising. Stochastics is rising, along with price here and there isn't any concern with it being overbought.
The bearish action in the stock has occurred when there has been a bearish crossover (%K line crossing under the %D line) while overbought. Buying opportunities have occurred about four weeks after that type of crossover, so one strategy is to use that timeframe for entry.
We would target $33 to $34 as an optimal entry point, which lines up support of the current flag, the bullish channel and the 13-week simple moving average (SMA). If Alarm.com closes over $38.50 for consecutive weeks, then we would anticipate a breakout and buy targeting $45 as the three-to-six-month price target.
Unfortunately, buying breakouts has not been rewarding all the time, so a medium-sized entry on a breakout would be the approach favored. If Alarm pulls back to $33 to $34, then a full-sized position appears warranted.
Should support fail at $33, then $30 becomes the new price target where an oversized position would be considered, as long as the fundamental picture remained the same or improved. If the stock falls under $30, then we'd anticipate $27.50 as the next support level and would consider defensive action not looking to expand the position until strong signs of technical stability appeared.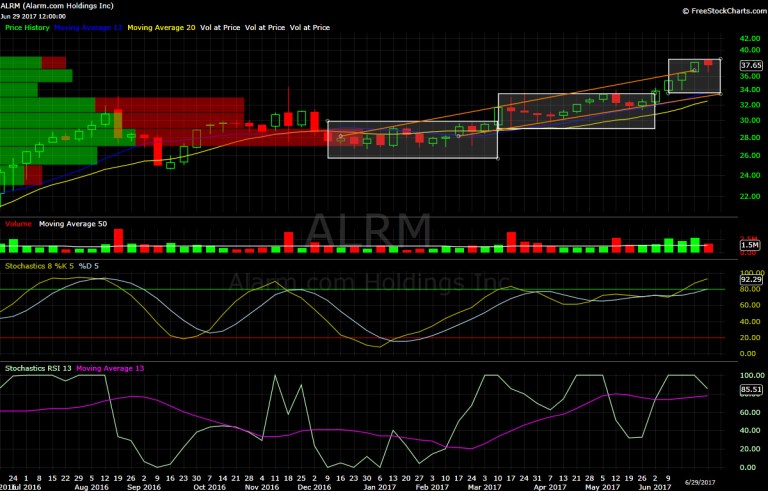 Catalysts for the Thoughtful Investor
Alarm.com is profitable, growing earnings and has sales in the double-digits and holds no debt. Those are attractive phrases for any momentum investor with a timeframe beyond this week.
In January, Alarm.com acquired ObjectVideo, a video analytics and computer vision firm. At first glance, this may appear as nothing more than expanding the video doorbell platform, but the direction Alarm.com is taking the acquisition is something that will differentiate it from other companies seen as competitors.
ObjectVideo extracts meaning and intelligence from video streams in real time that enables object tracking, pattern recognition and activity identification. The target market for such a product is the federal government and large businesses, well beyond home owners and small businesses.
Given the company's current competitive strengths with its open platform, along with the visibility of the financials due to its increasing recurring revenues streams, the potential expanded revenue base from this acquisition further reinforces our long-term bullish view.
In addition, the acquisition of Connect and Piper, increases the likelihood for a growing partnership with ADT or potential merger in the future.
The Bottom Line
-Alarm.com's small size and focus provides agility and could also make it an appealing takeover target.
-The software-as-a-service recurring revenue will make the company attractive to investors.
-ALRM has a growing market share in the peer monitoring segment of home automation, even with small penetration of the overall potential market.
-In the range of $35 to $55 we like ALRM as a buy and hold, but the small-cap high-flyer nature of the stock will result in volatility.
At the time of publication, neither the author nor the company held positions in the stocks mentioned, but positions may change at any time.
---
Are you a thoughtful investor looking for uncommon investment ideas?
Stirling Strategic Investor is a new source of high-quality investment ideas from seasoned investment professionals Tim Collins and Kim Khan, formerly senior members of TheStreet.com. Tim and Kim share 50 insightful equity trade's per year for $100. That's just $2 per trade.
Tim and Kim's first recommendation, Mobileye, was recently acquired at a 34% premium by Intel. We provide the first two ideas at Stirling Strategic Investor for free. We look forward to providing you uncommon ideas of true value.
Learn more at StirlingStrategicInvestor.com.